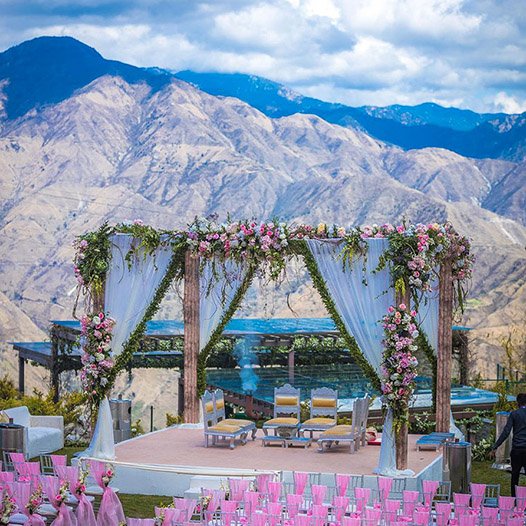 Did you recently propose to your better half and got your answer as a 'YES'? Well, it's time for wedding vows and a lot of adventure now! It is time for you to plan a grand wedding which will allow the whole family to have fun while you two celebrate your union.

And if you are more of a romantic person who will like to get married amidst the grandeur of hills, then a destination wedding in Dehradun will be the best option for you. Taking wedding vows with a surreal backdrop of hills will surely add beauty to your wedding. Amazing views, lush greenery, and pleasant weather make Dehradun the ideal destination for a wedding. But what is really special about Dehradun? Let's take a look!
Why Choose Dehradun For a Destination Wedding?
Dehradun is known for releasing tension and providing peace of mind with its pleasant weather and vibrant atmosphere. It is not only the capital of Uttarakhand but a city that offers the best dose of nature.

Dehradun is peacefully nestled in the midst of majestic Himalayas. It is the perfect place to unwind and have fun because the air is cleaner and the surroundings are greener here!

Additionally, there are a lot of things that you can do in Dehradun while having a destination wedding in Dehradun. For instance, you can visit the Mindroling Monastery, which is famous for a 35-meter long gold statue of Buddha. Plus, if you are a wildlife lover, you can even take time out to visit Malsi Deer Park. Ultimately, it is an ideal destination because there are various wedding resorts in Dehradun.
Event Planner in Dehradun
If you are planning to have a destination wedding in Dehradun, you need a wedding planner too who can plan and execute your wedding well. A wedding planner in Dehradun will help with booking the resort, catering, decoration and looking at all the other things that make a wedding perfect.
Showtime Event
Showtime Event is a recognized and trusted name in the wedding planning industry. We believe in turning your wedding day into a fairytale.

We have a wide network that allows us to get the best possible prices for our customers. Additionally, we are a team of professionals who work with full commitment and dedication. You can get in touch with us to plan your wedding at one of the best wedding resorts in Dehradun at an affordable price.

We will be glad to help you with everything and make your D-Day the most memorable day of your life.

For the convenience of our clients, we have listed the most frequently asked queries of our clients which will prove to be of further benefit for our future customers at all the stages of their wedding journey. It's commonly referred to as "frequently asked questions" or FAQ page. To reassure potential customers, clear out sales, and save your time here we have answered some repetitive questions in the following manner:-
Frequently Asked Questions
A. Showtime Event is by far the most affordable yet capable wedding organiser in the community of event planners in Dehradun. If you won't take our word for it then you're free to conduct research on your own but all you will find out about is the exceptional quality of wedding services that we offer under a very reasonable price range. Most of us are aware that wedding planning typically starts right after the engagement because of the lack of time to short out every detail of the wedding from start to finish. That is why expensive wedding planners aren't seen in good light because they face the same issues as ordinary planners.
Fortunately, wedding planners like Showtime Event typically include a wide variety of affordable designs as a part of their packages. This clearly implies that through the help of our wedding planning agency, you can smoothly redesign the overall look of your wedding under a reasonable price range. Unlike other planners, Showtime Event works hard to meet high aesthetic standards set by our clients.

A. Without much context, it's hard to accurately discern the total cost of a destination wedding in a famous city like Dehradun. But through some professional calibre, we can meticulously estimate a proper budget required for a destination wedding in Dehradun. Keep in mind that the cost of the wedding is proportionate to the number of guests you are planning on inviting and the number of days your event is scheduled for.
If your guests add up to 100 in number in a two days wedding schedule, then you should at least expect a minimum asking price of Rs.15 lakhs from a 3 or 4-star hotel. Nevertheless, if you're craving a luxurious wedding destination in Dehradun then you should expect the total expenditure to be around Rs. 50 lakhs. Surprisingly the cost of a destination wedding in Dehradun remains consistent each year due to agreeing weather and abundance of exotic seasons. So with the assistance, of Showtime Event, you can easily plan a wedding under the beautiful seasons of Dehradun without paying for anything extra.
A. Have you decided on Dehradun for your 'Destination Wedding'? If yes then you should probably start searching for avenues that are located in the heart of the Dehradun. When it comes to an unbeatable location, Celebration Garden is considered to be top-tier among all the wedding venues available in Dehradun. This awe-inspiring venue accounts for two gorgeous farms, one of which can accommodate about 500 guests while the other one can serve approximately 2000 people. If you're hoping for a dreamy wedding then venues like this are the right pick for you. On the other hand, Orchard Banquet is also counted among the top resorts available for wedding functions in Dehradun. It is well-known for providing reliable wedding services and housing the finest of weddings in the city. With a little touch of Showtime Event, you can have an extravagant or a classy banquet-style wedding in Dehradun at Orchard Banquet.
Dehradun is not only known for yoga study and tourist destinations but it is also known for acting as an exotic location for destination weddings. Recently, there's been a boom in the popularity of Dehradun as a major destination for weddings. There are other cities like Rishikesh in Uttarakhand that can serve as destinations for weddings because of its famous spiritual discoveries but in terms of beautiful landscape and terrains, it can't come close to Dehradun. Even the state's forested Jim Corbett wedding venues fail to keep up with the popularity of Dehradun for destination weddings.
In conclusion, Dehradun is the perfect wedding destination for you because of very obvious and simple reasons. First, it is simply bolstered in the mountains, which can gift you with a spectacular view and alluring vistas on your wedding day. Not to mention that it is the perfect venue for getting some spectacular and stunning wedding photographs. Deharadun is an off-centre location which keeps you away from the hustle and bustle of the city. Choosing Dehradun for your wedding destination gives you a golden opportunity to dive into nature's embrace and on top of that, your loved ones will also be in attendance.
Our More Services