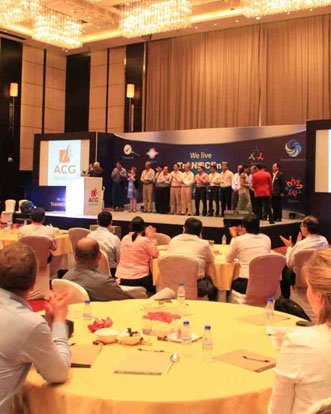 With a coverage at lots of events and party organizations, we are providing our services in organizing dealer and retailer meets too. These meetings are generally organized to introduce
dealers and retailers
with new product and sometimes to motivate them. If you are also planning to conduct a meeting for this purpose then you should make it good enough for everyone. We are providing our world class services in dealers meet event organizer in Delhi, Gurgaon, Noida, Faridabad. We have a hard-working team with a positive attitude towards their work. Our this quality makes us different from other event service providers.
The highlight of our Dealer/Retailer meet event organization service
We provide the best audio and visual equipment
A good visual and audio effect are must in a good meeting. We have the latest displays and sound system which will make your event more indulging and interesting. Our system is best in the market and we promise to give the best meeting experience to your audience.
Location and Hall Management
A good location is the first requirement for a good meeting and we will find the best one for you which will be good for transportation too. After finding the best location, we will give you a wonderful hall and stage to perform all of your activities.
Celebrity and Artists
If you want a celebrity to come to the meeting or you want a good artist to entertain the audience then we have solutions for this too. We have contacts with famous celebrities, singers, dancer, comedians who will help to make your meeting more entertaining. We will make your event memorable.
Catering Service
We will provide the best catering service with a good food menu items. You will love our catering service and wonderful serving team for sure. Good food and refreshment service will be good for the audience. You do not have to worry about this if you give your event organization work to us.
We are doing lots of other things in this field and we feel proud when people praise us for our work. We understand the needs of our clients before performing any step further. We are considered as the
best dealers meet event organizer in Delhi, Gurgaon, Noida, Faridabad
. You can contact us anytime related to any question and query. We are ready always to help you in every possible way.