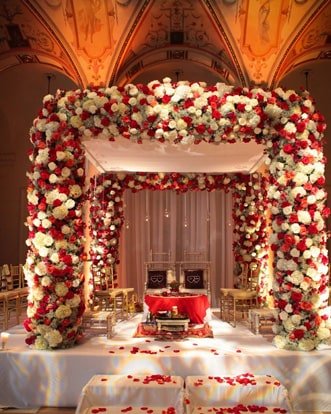 A good and decorated stage is the most important thing in any event, marriage or conference. A big stage can be a lengthy and tricky work for anyone. You will require a professional service to set a big stage and fabricate it. We will provide you the best solutions for stage fabrication services in Delhi. We have different types of stage setups for different events. We can fabricate it in any style as per your requirement. We are working for the stage for a long time and our team is fully professional in this work. We are working as a leading stage setup for corporate event in Delhi.
Stage Setup for Wedding
A wedding requires a good stage to perform every action included in it. We will set and decorate the stage for the wedding in a good manner and with high-quality decoration material. There are lots of other requirements of the clients for a stage and we will take care of everything you will tell us. You can get in touch with us anytime regarding stage set up for wedding in Gurgaon. Not only Gurgaon, but we are also currently acting as a service provider in stage setup for wedding in Faridabad and Noida too.
Fast and Reliable stage Fabrications service
If you want us to do the fabrication of the stage in your way they will do it with full dedication. There are lots of stage fabrication vendors in Delhi but we are going ahead of everyone. Our work is very fast and reliable and our team is very much patient and hardworking. We are known as the best stage fabrication vendors in Gurgaon and its nearby areas. We have satisfied hundreds of customers with our unmatched services of stage setup for wedding in Delhi.
Conference, Meeting Stage setup
If you are hosting a meetup or conference or any other corporate activity then we can provide a good stage set up according to your need. We will give you a world class Stage setup for conference event in Delhi. We will design and fabricate these types of the stage in a professional and classic way. We will give you a stage which will have a touch of perfection and attraction.
So, if you require a good stage set up for wedding in Noida or any other areas of Delhi then we are always ready to help you. Feel free to contact us anytime.