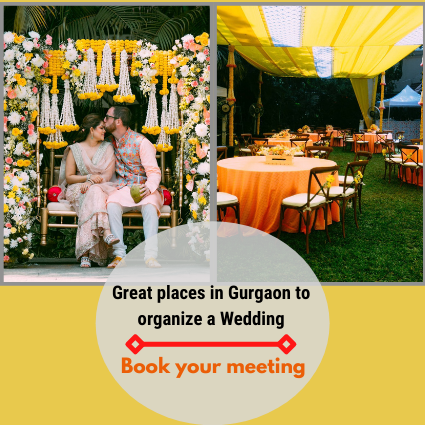 When will the wedding take place? Are you looking forward to D-Day? Sure, but you are worried about the whole event? So, how will you ensure your visitors are happy and that everything runs smoothly?
It is a tough job and involves much thinking and pondering. Why not instead seek professional advice? That would surely assist to make things smooth and the event a success.
ShowTime Event is the best option for qualified Gurgaon wedding planners. We are always ready to offer the best in your budget and organize events.
Gurgaon's finest wedding planners on a budget! Wedding planners do not like anyone else treat your big day. Every customer is our family and we put as much effort as we do into your wedding traditions.
Why are we the best wedding planners in Gurgaon?
Gurgaon is a fantasy city that comes to fulfill its aspirations. The wedding, but, is also a dream occasion.
We are a wedding planners in Gurgaon Haryana. Here, we follow a specific process from the discussion through the preparation for the event.
1. Customer Interaction:
Supporting customers involves thoroughly understanding their needs. Then we have many ideas which may be integrated or mixed.
A comprehensive discussion with our professionals and designers will precede our presentation of ideas to you.
2. Place Of Reservation:
The wedding is a huge event. We want to involve everyone, from family to friends, who attends the wedding. We help you discover the finest locations for all your events.
We offer a range of fascinating locations and resorts as a wedding planners in Gurgaon.
3. Pre-wedding Ceremonies:
Pre-marriage is an essential part of a wedding. Your pre-wedding festivities will be a big success for us as a wedding planners in Gurgaon. Let us see how much we can do.
As we are a destination wedding planners in Gurgaon, we have wedding lawns & farmhouses in Gurgaon so that you can hold a large and luxurious wedding meeting. Birthday Planner has an amazing no. of wedding farms & lawns in Gurgaon.
4. Function Of Haldi:
What is unique about every pre-marriage opportunity is adding a different touch. We thus prepare vibrant clothes and colors for each occasion. Also to arranging music, dancing, and unique activities, we prepare for the bride and groom's costumes and wedding jewelry.
5. The function of Mehendi:
Our team includes the finest designers for Mehandi. As event planners in Gurgaon, we make sure that you and your bride's team get the best henna. Our designs are unique and you will love them.
6. Welcoming Guests To The Wedding:
Wedding day and welcome are the main pleasure of the celebration. We organize all floral materials for your wedding and other events according to your selected theme.
7. Capturing The Magical Moments On Video:
We will turn your wedding into magic. From arranging a live wedding film to filming, Birthday Planner is the perfect and biggest wedding planners in Gurgaon.
Wrap Up:
We create the biggest and most successful wedding celebration. We are the best wedding planners in Gurgaon, and guarantee that your wedding is a fantastic event!
Frequently Asked Questions
A wedding is not something that can be planned in a single night. You have to consider many factors before the wedding and your question addresses one of the prominent concerns superbly. The most worrying factor of any wedding is the cost, but the real question here is whether you can afford a Wedding Planner in Gurgaon or not.
If that's your question then the answer is a big YES! But moving onto the figures, a wedding planner in Gurgaon can cost anywhere between Rs 2 lakhs to 6 Lakhs. However the cost is highly dependent on the budget, the scale of the wedding, or the venue chosen.
Here are the two most luxurious wedding venues in Gurgaon according to the numerous locally established wedding planners -
The Oberoi: Udyog Vihar - This venue has tasteful surroundings and is placed amongst the most exemplary wedding venues in Gurgaon.
The Westin Sohna Resort:- Karanki Road - This beautiful venue in Gurgaon highlights every little detail, which makes any wedding celebration unique.
If you still feel dissatisfied with these options, then just call Showtime Event to get a list of the most prominent wedding venues handpicked by an expert team. This list can be further optimized to meet the needs of each and every customer.
Yes, it is more than enough. Many couples and their families start to fret months before the actual wedding date, but they simply aren't aware of the right time to act. Fortunately, with Showtime Event you can now pause and celebrate the engagement before rushing into potentially-stressful wedding planning logistics.
Although the recommended time period is said to be one month you can dive into wedding details shorter than a one-month period. However, the wait time changes depending on the scale and intensity of the celebration. So reach out to Showtime Event to get a proper quote on the timeline.
To answer your question we first need to explain what exactly before and after wedding celebrations are composed of, as there are many celebrations that happen after and before the actual wedding. Here's a short description of a few of them-
Sangeet & Mehandi -No traditional Indian wedding is complete without these functions and any decent wedding planner in Gurgaon will avail of their services for these events.
Reception - If we call any celebration a wedding after-party it's the Reception. It is typically thrown by the host and typically organized by wedding planners.
If you're referring to the mentioned celebrations then any wedding planner in Gurgaon like Showtime Event will facilitate their services to accommodate these events.