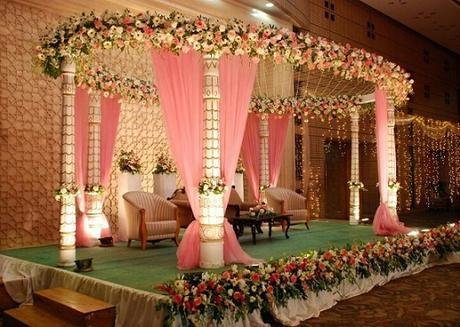 Mumbai is a cosmopolitan city where you can find people from all walks of life and diversified culture. Thus, the weddings here too are diversified and full of pomp and show. However, hiring a wedding planner becomes the most difficult task with people juggling between their office work and managing their mundane lives.
If you are on the lookout for a deft wedding planner in Mumbai, then you have landed on the right page. We at ShowTime Event are renowned budget wedding planner in Mumbai who hold years of expertise in arranging the best weddings planner in the city.
What makes ShowTime Event you'd stop for the best wedding planner in Mumbai? There is no dearth of resources and a king size lifestyle in Mumbai. Everything about Mumbai is classy, and this is completely right for weddings too.
We are ShowTime Event deem to be your companion to prepare wondrous weddings in the city. Read below to gain a gist about our complete services and process.
Best venue for weddings
TVenues play an imperative role when it comes to weddings and other occasions. So, if you are juggling to choose the best venue, then let us be your solution. We list the best locations and venues from halls, 5-star hotels, and open ground to destination wedding locations. Besides, everything in the location or venue is thoroughly checked to ensure no inconvenience is caused to any guest at the wedding.
Virtual weddings
With most weddings now conducted virtually and people not getting the opportunity to participate in the wedding, we bring an ideal way to connect with everyone and your guests to be part of the wedding irrespective of geography. Our virtual weddings will make it easy for everyone to become part of the wedding from the comfort of their house.
We are renowned and the most chosen virtual wedding service providers in Mumbai. Besides, we. Also, we offer live streaming and create the best pre-wedding shoot and wedding video. As soon as the wedding commences, all the guests can view it from the comfort of their homes.
Catering to decoration
The two most important aspects of a wedding and as the best wedding planner in Mumbai, we know the integral role of food and decoration. No matter which cuisine you wish to arrange for, your budget will get your decoration done with the assistance of our expert designers. We will arrange the whole setup and make the best decoration for your wedding venue. Also, we will arrange for exclusive catering, from arranging the food to decorating the buffet.
Designing wedding invites
Wedding cards play an integral part in marriage. Moreover, everybody likes to have their wedding cards be distinct to that of others. Therefore, we will get the best invites and online virtual invites to make your wedding the most charming one.
Get best photographs and videos captured
From pre-wedding photoshoots to videos along with YouTube cinematic capture, your wedding will be the talk of the town. Our professional photographers will capture the best clicks and make the best videos that are enchanting and enticing.
As top wedding planner in Mumbai, we ensure to make your wedding the best event. We take complete responsibility for the entire arrangement and getting wedding supplies, thus making it a grand celebration for the bride, groom, and the whole family and guests.