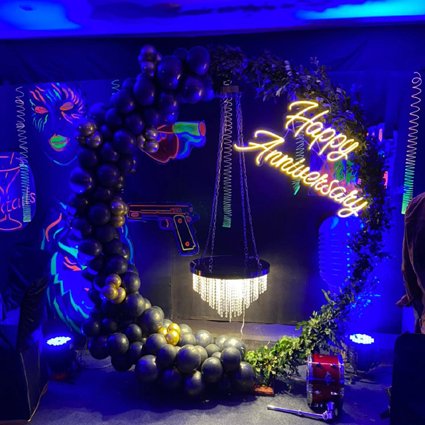 Neon theme party ideas elevate conventional event lighting to new heights. Everything seems better with the proper lighting. Whether you are attending a wedding, a birthday celebration, or a business event, a neon theme party establishes the atmosphere.
While visitors are used to dazzling chandeliers and big candles, lighting innovates and shines in new and more innovative ways. Consider LED dance floors and glow-in-the-dark party elements, as well as neon food trays and uplift flower decor.
Neon theme party decorations are eclipsing all other types of gatherings. And we are referring to any kind of festivity. After all, both adults and children will enjoy neon-themed events. Even the most opulent weddings may benefit from neon decor and entertainment.
That, however, is not all. ShowTime Event can link you with lighting designers and an accomplished audiovisual crew that can help you bring your favorite neon theme party to reality. Make sure to peruse our selected directory to connect with lighting designers, event planners, and photographers.
However, before we get started, have a look at our favorite neon party ideas for an amazing light party.
Decorations for Neon Parties
Ceiling Decorations That Are Worth the Neck Crane:
We will infuse your outdoor wedding with contemporary elegance by including wow-worthy glow-in-the-dark party components. Neon theme party will brightly light the wedding celebration long after sunset with glow in the dark themed party instruments and a spectacular ceiling display.
Glow-in-the-Dark Tablescapes and Seating:
With so many glowing components at this glow-in-the-dark pop-up, it was difficult to choose a favorite. Every aspect of this event was a dazzling burst of illumination, from an inside firework show to jewel-toned uplighting. We are particularly fond of the futuristic centerpieces with circling neon rings.
Take advantage of the limelight by installing an illuminated dance floor:
A unique glimmering with fascinating entertainment, the Rubik's Cube-inspired dance floor will keep the dancing party going. Brilliant uplighting in every color of the rainbow will illuminate the area. Even the tabletops were glistening with glitter centerpieces.
A Glorious Attitude:
While the dance floor was the highlight of this neon-themed bar, the activities were spectacular and unforgettable. At this joyous occasion, faces practically shone. Custom-neon paint guns elevated the art of face painting to new heights.
Catering Ideas for Neon Parties:
We can create a dreamscape of light and color. Glow-in-the-dark tabletop decor, dazzling candles, and jewel-toned uplighting delighted guests. The decorating walls with lighting formations inspired by DNA sequences and chemical compounds, while a laser-lit champagne wall enticed visitors to indulge in the better things in life.
What Is the Best Way to Throw a Neon Theme Party?
Finding neon party inspiration and ideas is just the beginning. ShowTime Event is here to link you with a skilled team of event suppliers to help you realize your glow-in-the-dark party ideas.
Visit ShowTime Event's list of top event suppliers to learn about skilled party planners, florists, and photographers, among others. Utilize the options to fine-tune your search by city and event type.
Additionally, you may locate a dream place for your neon theme party right here. Utilize the options to narrow your search by location, attendee numbers, event kind, and more.