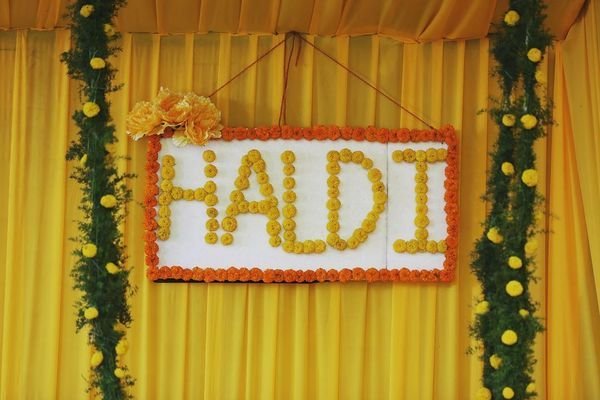 The excitement of Indian weddings lies in their consecutive functions. These celebrations and functions include Pre Wedding Events rituals which are as important as the main wedding day. One of these rituals includes Haldi, where family and friends get together under one roof to apply turmeric paste to the bride and groom.
The best part about this ritual is the blessings showered by family members and the enjoyment. Another important aspect is the Haldi function decoration. In this blog, we will bring you some attractive and vibrant Haldi background decoration ideas.
Combined Ceremony
When you plan to be together for the whole life, then why not do the Haldi ceremony together? Having a combined Haldi ceremony with both the families will be great fun, and you can get some fantastic clicks with your spouse. Plus, it will also help save some money.
Jhoola Sitting
When both the bride and groom are together, a romantic jhoola sitting is a must. Moreover, the couple should have a comfortable and lovely place to sit in.
Swings are the most underestimated decoration option. They can transform the whole area with some lovely floral decor around it.
Yellow Canopy
It's a Haldi function decoration at home; yellow is mandatory! Layout beautiful canopies in hues of yellow to set a mood for Haldi function.
Funky Installations
A warm and exciting entrance sets the whole mood of the function. You can use the entrance space as a photobooth for your guests. Add some selfie-friendly installations that set the vibe for the entire Haldi function decoration.
Paper Lights
If you are looking for easy Haldi decoration at home, then this is the perfect option to consider. Go for pop colours for the lights and simply keep them hanging throughout the day. When the sun goes down, light them up to create magic. This option is not just affordable but paper-friendly too.
Other than the above-mentioned ideas, you can also make a rangoli with yellow flowers, use hand-painted earthen pots and decorate with bright-coloured cushions and bolsters. If you are looking for some help, get in touch with Showtime Event. We would be glad to help you with Haldi Decorators in Delhi, Mehendi function decoration, wedding planning, and other related services.
Frequently Asked Questions
There are many different decor ideas for a Haldi ceremony. The most important thing is to find something that reflects the personality of your family and the culture of your region.
To decorate your house for haldi ceremony, you can use some traditional or unique items which are traditional in your culture.
I would suggest you to use colors like orange, red and green because these are colors that represent the sacredness of a particular festival.
Another thing is to add some decorative lights on the ceiling as it will look beautiful and elegant. Lastly, add some flowers in the living room as they will make your home look more beautiful and welcoming.
It is important to decorate the Haldi Function at home in a way that will make it special and memorable for all the guests. There are many things that you can do to make this happen, and some of the most popular ideas include:
1. Decorate the venue with traditional Indian decorations such as rangoli, floral arrangements, and dhols.
2. Serve traditional Indian food such as tandoori chicken or lamb dishes.
3. Have live music during the event to add an element of excitement.
4. Get couples ready for their wedding night by providing them with gift baskets or flowers ahead of time.
The haldi ceremony is an important ritual in the Hindu religion. It is performed to bless the bride before her wedding and to ward off evil spirits from the couple during their marriage.
The ceremony involves applying a paste made of herbs, spices, and oil to the bride's body. The paste is then rubbed into the skin until it becomes a thick brown color. This is supposed to protect the bride from evil spirits and ensure a happy and prosperous marriage

A haldi ceremony is an important ritual in Indian weddings that is usually performed on the first day of the wedding. It is a special time when the bride and groom meet each other and exchange gifts.
There are a few things you should keep in mind when looking for a haldi ceremony look for a bride:
• You should choose something traditional and elegant.
• You should avoid wearing too much makeup or jewelry.
• You should wear comfortable clothes that will make you feel confident and beautiful