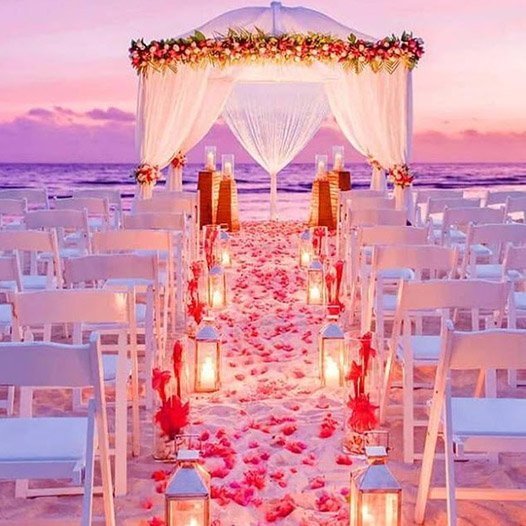 Goa is a fine blend of Indian and Portuguese culture. The destination is filled with gorgeous beaches, sea breezes, palm groves, lively casinos and of course, delectable seafood. Although Goa is one of the smallest cities of India, yet it has everything to let people call it a paradise.
Goa is a perfect destination for party lovers and beach admirers. In recent years, the destination has also become popular for destination weddings. Many couples choose Goa for their destination wedding and enjoy a beach-style wedding. If you are planning to get hitched to your better half, its time you look for budget resorts in Goa for the wedding.
Why Have a Destination Wedding in Goa?
There are many reasons to choose Goa for your destination wedding. While some couples choose Goa for its beaches, others go for it only because its Goa. The place indeed has its charm and a vibrant atmosphere that makes weddings exciting and enjoyable.
First of all, when you plan to have a wedding in Goa, you get access to various choice. From luxurious resorts to island wedding, from a church wedding to a cliff-side wedding, you have so many options to choose from. Even if you don't want to spend a lot, there are numerous budget wedding resorts in Goa.
Moreover, Goa offers a lot in a small package. People from all over the world visit Goa for its culture and boho vibe. The destination is a complete wedding package with luxurious private properties, pristine beaches, gold sand, distinct culture, and great shopping. It is indeed the perfect location for couples wishing to get married at an exotic location.
What is the Best Time for a Destination Wedding in Goa?
Goa has a tropical climate throughout the year. Since the place is pleasant most of the months, you will see visitors all around the year. However, the best time to plan a beach wedding in Goa is between October to February. For indoor budget weddings, May to August are good months as the season is low and you can get many inexpensive options during this time.
Wedding Planners In Goa
It's apparent that you want your wedding day to be the most special day of your life and do not want to take any chances with it. Well, for that, you might need to look for wedding planners in Goa who will assist and advise you about venues, Flower decoration and destination wedding in Goa cost.
Showtime Events can help you plan a splendid and memorable wedding in Goa. We are a leader in the industry and hold a vast experience in planning weddings and other events across India. We believe in transparency and will advise you about budget wedding resorts in Goa and the best venues for a destination wedding.
Showtime Events works with full dedication, and our sole aim is to see happy faces with gleaming eyes after successful execution of an event. To give you the best experience, our team puts extra efforts by discussing, consulting and recommending a tailor-made plan to accommodate all your requirements. Get in touch to plan a mesmerizing wedding in Goa that will be remembered for years to come.
Devise an exotic beach wedding in goa with the assistance of the showtime event
A 'destination wedding' is a wonderful way for couples to make their marriage more eventful and dazzling. Everyone wants to host their wedding at the destination of their choice regardless of the distance. You can't call a wedding 'A Destination Wedding' unless it entails wedding venues which are exquisite and exclusive. A popular venue outside of your locality, like a beach, would be the perfect place for your wedding. Thus Goa which is filled with elegant beaches should be your priority therefore should start looking for beach wedding planners in goa.
Why Choose 'Goa' For Your Destination Wedding?
Although deciding on a venue is complicated for the couple, for the most part, they are extremely busy with planning various events at their own wedding as a consequence it becomes difficult for them to invest their time in search for the right venue. The wedding could be inside or out, at a charming hillside or in the desert as there's no end to exotic venues in India. Nevertheless, you should take a minute and think about how incredible your wedding celebration would look at a famous beach in Goa. If you're worried about then budget then rest assured because Showtime Event can make a low budget wedding in goa happen anytime you want.
Perks Of Having A Beach Destination Wedding
Just picturing the exotic white sands, refreshing waves hitting the shore and the scent of the sea garnishing your wedding seems incredible, this natural view can make any wedding ceremony look heavenly. Having a beach wedding is the perfect setting to make things more exciting for your as well as your guests. However, the only ones who can turn your vision into reality happen to be the beach wedding planners in goa like Showtime Event.
It's Comfortable And Elegant
1• Many people have the misconception that a beach wedding lacks elegance which isn't true. Depending on your wedding planner in goa, you can just order your wedding to be as elegant and sophisticated as you want.
2• To suit the temperature, you may have to change your attire to feel comfortable in the new environment but that doesn't mean that it should stop your beach wedding from becoming chic and elegant. Leave all the hassle to your favourite wedding planners in goa and enjoy the scenery with your partner.
No Need For Elaborate Decors
1• One of the most attractive benefits of having a beach wedding is that you won't have to worry about the cost of decorations. Fortunately, the natural beauty of the beach will prove to be a more than sufficient decor.
2• All goa resorts wedding packages, make use of the elegant white sand and the deep blue ocean with green palm trees as perfect backdrops. So you can now arrange a wonderful beach wedding backdrop without even breaking a sweat.
What's So Special About Showtime Event?
You may be wondering why out of all the wedding planners in goa you should prioritise Showtime Event. Well, arranging a wedding event can prove to be a very stressful and burdensome task, which compels many brides and grooms to turn to wedding planners in goa. These planners assist couples in organising the biggest day of their lives. All good wedding planners in goa have certain qualities but none can come close to Showtime Event in terms of offering quality service at an affordable price. So if you're looking for a cheap destination wedding planner in goa then don't hesitate to give us a call.
Add gorgeous Photos To Your Wedding Album
1• Right around the sunset is the perfect hour for capturing this auspicious day. This specific hour caters perfect natural lighting for clicking pics and that's why many professional photographers refer to this junction of time as the golden hour..
2• Showtime Event offers phenomenal pre-wedding shoot services and the theme can be anything from romantic to passionate, you are free to choose your pick. But don't miss the opportunity to capture the moment when the sunlight hits the beach and makes everything glow and to accomplish that you need the expertise of Showtime Event.
Get Affordable Wedding Packages
1• On top of offering wedding shoots, we also offer unbiased deals on beach wedding packages to all of our clients. Our wedding package despite being cheap covers everything that you may require during the wedding planning.
2• Of course, it is expensive to rent an official venue for the wedding, in addition to that there's also the cost of your reception and all the other tidbits that you have to pay for. Fortunately, Showtime Event understands your worries and offers beach wedding packages that are not only affordable but also help you avoid any stress or burden you might go through during the planning.
To have a destination wedding budget in goa, many couples have prioritised our services and at the end of the day, they were gifted an unforgettable experience by Showtime Event. So all you have to do is give us a call to reserve a beach wedding while being kept away from any extra expenses and frustrating hassles.
Our More Services