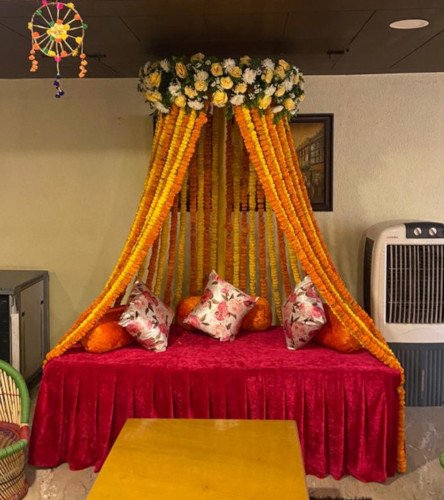 How to make gorgeous setup for wedding in delhi. Your wedding is close, there are butterflies in your stomach. At the samevtkme you are feeling all the emotions. You are kinda happy, but scared and nervous too. You are so confused about the decorations , clothes ,arrangements and the other stuff which can also affect your skin and then you won't look beautiful on your big day. Stop worrying, We the wedding planners in Delhi are here to help you. You can find a wedding planner near you and give your all stress to them. We willl help you have the mind-blowing wedding which nobody will be able to forget. # What all we will do? wedding planner in delhi.

Venue for the wedding:

We will help you book the perfect venue for your big day.What you have in mind we will make it happen.We can book a farmhouse and devorate it in a way which will make it look like a place and our bride and groom will be the prince and princess or, We can book a banquet hall for a grand wedding just like out of the dream or we can have a wedding near a pool in a hotel a very modern and classy one etc... whatever your heart wants.
Decorations:

We will decorate the venue with your favorite flowers- Roses, Orchids, Tulips, sunflowers etc... So it will look beautiful too and smell good too.

Destination wedding:

So it was your childhood dream to have a destination wedding in Jaipur in a fort or in Goa a Beach wedding etc. We will make your dream wedding come true. We will help you have the destination wedding of your choice.
Food/ Catering service:

The food and the catring service also off the check list. The guests are in for delicious food because we prefer the best nothing less than the best. So we have all all the options in cuisine ~ Chinese , Italian, Mexican, Indian. You just have to tell which all you want and prefer.
All you have to is contact us and book us rest all we will handle and you will have the wedding of your dreams without any problems or worries.
Our More Services