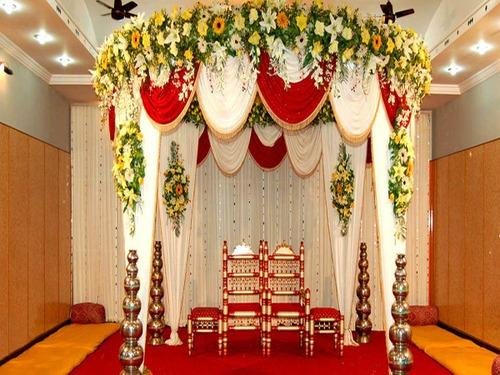 No wedding feels complete without aesthetically pleasing decoration. No matter how simple the decorations are, they can add life to an event. Unfortunately, wedding decorations don't come easy and require a lot of thought.
Indian wedding tent decoration can be made easy if you have some knowledge about it. It's always better to have some ideas in mind which you can share with your wedding planner. hiring a wedding planner.
This article will give you some easy and affordable decoration ideas for your wedding ceremony tent decoration. You can even use these ideas for your wedding functions. Let's dive into it!
Use String Lights
String lights help to create a romantic ambience when hung from the ceiling. In case you have an outdoor wedding, weave the lights through trees for a whimsical vibe.
No doubt, creative lightning is one of th most popular decoration trends for weddings in 2021. String lights, along with some aromatic candles, will absolutely transform your space.
Make a Lounge Seating Area
Give your friends and family plenty of sitting options by creating a cosy lounge seating area. Mismatched seating is the new trend and can be easily attained at wedding and reception functions.
Look for furniture that matches the wedding theme and colour palette. This will make it look polished and intensional.
Hang Flowers
If you have a luxury wedding ceremony tent, enhance its beauty by adding some flowers. They are no more limited to centrepieces and helps to create a unique space. Hanging flowers from the ceiling will add dimension to the room and is an excellent way to transform the venue.
What to Look for in a Wedding Decorator?
A wedding is a day when you want everything to be in place. So, the wedding planner that you are choosing should be an expert and knowledgeable. Primarily, you should check the planner's reputation in the market.
Your wedding planner should be able to advise you about wedding tent houses. Plus, he/she should be well-organized and planned. And of course, a planner should be creative enough to transform decoration ideas into reality.
Showtime Event
Showtime Event is a recognized and trusted company in the field of event planning. Comprising a team of experts, we aim to make weddings simpler and beautiful.
To date, we have planned various weddings, parties and corporate events. We help with decoration, lightning, makeup services, photography and videography. Contact us today for wedding ceremony tent decoration and other services at the best price in the market. Wedding Tent House Decoration In Delhi and a lot more. Call us today for more information.