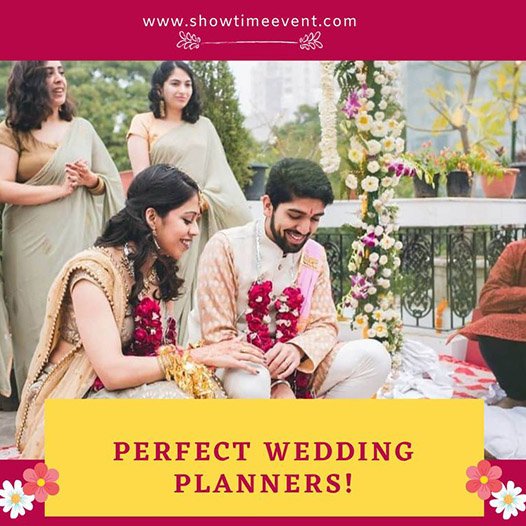 You might want to have the best wedding ever after seeing other couples who have gone insane for their wedding day. It's not just about you, but every couple in the world wants to have a unique and memorable D-Day. There are a lot of things to plan at a wedding. All your family members should be well taken care of and other things like finding a photographer and venue. This is where you realize that you need a wedding planner.
Not to stress as various wedding planners in Shimla can make the humongous task of wedding planning an easier one. Let's take a look at some them!
Showtime Event
Showtime Event is a popular name in the industry. They are the trendsetters when it comes to planning unique weddings. If you already have some thoughts in mind about your special day, you can discuss them with the company who will execute it flawlessly, under your budget. Showtime Event always has a lot of creative ideas in mind and hold a vast experience.
They can also help you with event planning, light, music, catering, decoration and much more. The company aims to make any event memorable by valuing the customer's time and understanding the delicacy of an event. Showtime Event has already planned events and weddings across India and would be entering the global market soon. You can contact them for professional and dedicated services.
Himachal Eventiser
Himachal Eventiser is another option to consider if you are looking for a wedding event planner in Shimla. They have a well-trained team that aims to provide high-end services to make your wedding one-of-a-kind event. The company has been planning all wedding functions since years and promises to provide reliable services.
If you are choosing Himachal Eventiser, you can expect loads of ideas and superb execution of the same. The company is also ready to travel across cities with you and give you an unforgettable wedding experience. They can assist you with decor planning, vendor management, guest management and much more.
Red Apple Events
Red Apple Events is one of those companies that put their hearts in every event it plans. They provide complete event solutions, and their expert team can plan every wedding function as per your needs and preferences.
The company has professional personnel who turns your ideas into reality and make your wedding grand. Their team travels with you to every destination to plan everything well and make the event successful. If you are looking for best wedding planners in Shimla, contact Red Apple Events. They will assist you with vendor management, event flow management, guest management, styling and personal shopper, on-site support staff and much more.
Marry Me - Event Planners
The company is an end-to-end wedding planner in Shimla. They are a team of dedicated and hardworking professionals, possessing the best skills to give every wedding a unique touch. Their main focus is on efficiency and success while planning any event.
You can get in touch with them if you are looking for a team that will put its heart in planning your special day and make the venue look splendid with in-house decor.
Anokhe Events
This is the last option on the list. The company is based in Shimla and delivers professionally managed events like corporate events, weddings and exhibition. With them, you can expect to witness the best themes and exclusive entertainment ideas for your wedding. AnokheEvents will make sure that your D-Day always remains special to you.
Frequently Asked Questions
A. Some of the most affordable wedding destinations in Shimla are Deventure Shimla Hills, The Oberoi Cecil, Shimla Greens Hotels and Resort, Woodville Palace Hotel, The Grand Welcome Hotel and Spa and much more. If you're already opting for these locations then congratulation you were taking the right step towards planning a perfect destination wedding!
A wedding is the biggest event in every couple's life but that doesn't mean that you should be careless with your budget. For planning these events you need to be cautious about extra expenses and cost-effective with the decorations, fortunately for you Showtime Event can help you with that. It's an undeniable fact that the venue cost constitutes the majority of your expenses that's why you need to be careful and pick only one of the mentioned venues to make your dream destination wedding a success. In Shimla, you can choose from a wide range of within-budget wedding venue options to celebrate your event even under a marginal budget.
A. According to popular belief, Shimla is considered to be the Summer Capital of India and it has made an ideal location meant for organising summer weddings. Getting married in Shimla will be nothing less than a fairytale experience because of the abundance of the lush green trees on the awe-inspiring mountains and the alluring landscapes around your venue. It's away from hectic traffic and the obnoxiousness of metropolitan life, getting wed in the lap of nature located in the midst of oak and pine trees will gift the couple and their guests with a once in a lifetime experience.
The climate in Shimla is very pleasant in the spring season which also makes it a suitable season for tying the knot. Spring lasts from mid-March to April following it the summer season lasts from May to June. Keep in mind that you should never host your wedding in Shimla from July to September because there are chances of heavy rainfalls and landslides.
A . If your wedding destination is Shimla, then Showtime Event is bound to be one of the most capable yet affordable wedding decorators you can find here. Of course, settling on a decorator isn't something you should be hastening about, you are always free to do your own research and later come to a conclusion after carefully contemplating your options. But if you really have no idea about good decorators then just visit Showtime Event's official website and take a glimpse at our most successful projects which actually number in thousands.
It would be the best course of action for you to first take a look at our client testimonials so you can get familiar with our way of action. It's our job as decorators to help bring your own style to life and it's always better to work with someone like Showtime Event who has the same ideas compared to someone who doesn't resonate on the same level with you. All you have to do is give us a call and we would be right there to help you.
A. Many people believe destination weddings to be a small moment that will eventually pass but that way of thinking is not correct. It should be seen as a rare opportunity for traveling to Shimla and being able to enjoy the rest of the visit with your friends and family. So the average destination wedding expenditure ranges at least from 20-25 lacs rupees, the cost is highly proportionate to the wedding venue and the number of guests in attendance. Surprisingly, destination weddings are much cheaper than a typical wedding organised in a similar locality. The 20-30 lacs that you will spend on an exotic location rather than a boring venue will yield a much better response from your family and friends.
Shimla is worth every penny because it will cater for you with the most gorgeous and mesmerizing landscapes that you can find in India. It has a natural beauty which makes it the perfect destination wedding spot, just hire Showtime Event and you'll have the perfect venue ready for you at moment's notice.
Our More Services