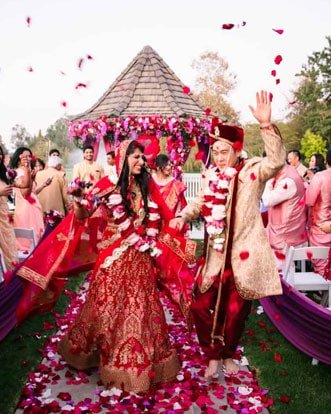 Wedding Organizers in Delhi, Gurgaon, Noida
- Preparing for a
wedding
is the most time-consuming task. Between choosing each element of décor and booking vendors, couples normally spend several hours workout out each detail of their reception and ceremony. Luckily, we are here for your assistance. Whether you are looking for professional assistance, or you are facing any challenges while
organizing
your
wedding
, we can help you to make everything enjoyable and easier. We at ShowTime Event give similar personal attention to every detail of your
wedding
. Also, we will bring professional recommendations and advice to our clients. Our every package will bring you complete control over your
wedding
. We can spend enough time with our clients to make every arrangement as per the exact wishes of our clients.
What do you expect from our wedding organizers?
We are the team of
professional wedding organizers
who can guide our clients related to
wedding
etiquette, traditions, themes, and design concepts, venue selection, supplier selection, and budget planning. All of them will leave you a relaxing mind to prepare for your
wedding
. Here are our major services as follow:
• Wedding concept and design
• Selection of wedding venue
• Entertainment and music
• Staging, light design, guest management, and invitations
• Reception Management
• Accommodations selection
• Transportation
• Contract Review
• Budgeting
•
Photography and Videography
• Personalized attention to all details
These are exceptional services offered by us to ensure that our clients have everything required to enjoy their dream day within their budget.
Services offered by our wedding organizers
We have the best range of packages suitable for couples who look for professional guidance for their grand ceremony. Every package is created with the aim of offering a hassle-free experience to our clients throughout their overall
wedding planning
. Our
organizers
can ensure that both the groom and bride retain creative freedom as well as make a final decision. If you look for further assistance, you can approach our friendly
wedding consultants
. They are experts in planning or organizing your
wedding ceremony
as per your desire.
Why choose us for organizing your wedding?
With precise planning, we are there from the selection of the first vendor to when your final guest departs. Through this process, we will ensure that the
wedding
will make your dream into a reality. As the partner in the organizing process, we will select the efficient crew of vendors, bring you professional advice, creative ideas and also orchestrate every minute logistical detail. In short, our clients will enjoy all the fun aspects of
organizing their wedding
while avoiding the worries related to behind-the-scenes works.